Post by nomad on Sept 26, 2014 2:17:19 GMT -8
"
The beauty and genius of a work of art may be reconceived, through its first material expression be destroyed, a vanished harmony may yet again inspire the composer, but when a last individual of a race of living beings breathes no more, another heaven and another earth must pass before such a one can be again"
William Beebe ( 1877-1962)
American naturalist, entomologist, ornithologist, explorer and author.
It is now accepted that the Large Copper - Lycaena dispar was discovered in 1749 by Dr John Green at Dozern's Bank near Spalding in Lincolnshire. There seems to to be some conflicting opinions of where and when the final Large Copper butterfly were seen in England. J. C. Dale and others thought that the last Large Coppers - L. dispar dispar were taken in 1847 or 1848 in Holme Fen in Huntingdonshire by a Mr Stretton. There is however, a record of a specimen taken by Mr Wagstaff at Bottisham Fen in Cambridgeshire during 1851 ( S.H Miller & S.B. J Skertchly - The Fenland Past and Present 1878 ) . In 1980, A.G. Irwin found two specimens in a cabinet due for auction in Norfolk that were labelled Ranworth 1860 and Woodbastwick 1864. The Large Copper had been previously recorded from Ranworth. James Tutt wrote that Mr W. Winter in the Entomologist's Weekly Intellinger for 1858 recorded that L. dispar has again turned up here at Ranworth Broad on June 19th of that year . In Norfolk, outside of the Broads, Bardolph Fen was a noted locality, being captured here by Adrian Haworth in 1827. I have also seen further specimens from Bardolph Fen that were collected in 1839 & 1841. The butterfly was found further south at Benacre Fen in Suffolk by Laetitia Jermyn during 1827. From the data that I have viewed on another specimen from Benacre it was apparently still flying there in 1837.
There are also two specimens in the British collections at Oxford that were presented by the well known lepidopterist Henry Rowland-Brown in 1922, these have the data taken before 1840, Woodbridge Suffolk. Rowland-Brown was keen to add this extinct species to his collection and noticed when visiting a Mr Hilsham Jones during 1899, a case of faded butterflies hanging on a wall in his house. To his great surprise there were three specimens of L. dispar in the case. One a female L. dispar, had along with all the others butterflies turned whitish due to light exposure, but the two other Large Copper males placed in the corner of the case were in shade and were in quite good condition. These two male L. dispar specimens were given by the owner to a very happy Rowland-Brown. Mr Hilsham Jones related that the butterflies in the case were all caught in Suffolk by his father and the dispar were taken about Woodbridge in the 1830s. Rowland-Brown mentions that there was the old locality Benacre Fen lying around 15 miles to the north, so perhaps they did indeed come from there. Woodbridge does seem a most unlikely locality for L. dispar.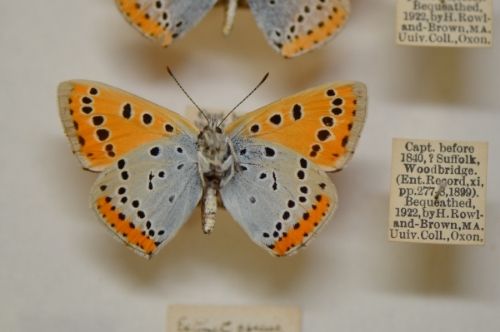 The male Lycaena dispar dispar presented by Hilsham Jones to Henry Rowland-Brown in 1899, with the Data Woodbridge, Suffolk. O.U.M.N.H. collection.
If the Norfolk Large Coppers found by Irwin in the Cabinet of the auction room have the correct data and there is no reason to suppose they do not, then Woodbastwick in Norfolk has now been mentioned by some as the last known British locality . However, the Large Copper may have survived till the following year in a different locality . Recently, I visited the Oxford University Museum of Natural History to study the British collections. As I was examining the British Swallowtail cabinet drawers, I found there was a male specimen with the data June - Yaxley 1865, E. Collins. During 1848 a large drainage dyke was cut across the Great Fen to drain Whittlesea Mere and the adjacent marshes. This drain lowered the water table in this area. In 1851 Appold's pump was installed to complete the drainage. Up to the time when the fens were drained, the Larva, pupae and adults of the Large Copper butterfly were being heavy collected by the local Fen people to sell to the London insect dealers, who often came here. The Swallowtail specimen taken at Yaxley Fen lying to the west of Whittlesea Mere in 1865 shows that even at that date, there was it seems, some suitable remaining habitat for that species. I have recently re-read the account of the Large Copper in that very fascinating book ' The Aurelian Legacy ' by Michael A. Salmon (2000). Salmon noted that he had two female specimens that were taken in Holme Fen in 1860 and one of these is figured together with other specimens of this species on the colour plate facing page 282. The two female specimens in Salmon's collection are very interesting because, they appear to have been taken twelve years after it was supposed to have become extinct at Holme Fen. Being very interested in the former distribution of this magnificent species, I had a close look at the data labels of the other specimen of the Large Copper that were figured on the plate from M. Salmon's own historic butterfly collection. When I came to the first male dispar, third row left, and saw the accompanying data, I was amazed. The data label clearly says H.H. Colin Yaxley 1865. Exactly the same year that the Swallowtail in the Oxford museum was taken at Yaxley Fen. There is little doubt in my mind that both data labels are correct and now it seems the last Large Copper was not seen in Cambridgeshire or Norfolk, but in a fragment of remaining fen in the historic county of Huntingdonshire in 1865 . The Large Copper was first found at Yaxley Fen in 1819 by Thomas Speechley, an old boatman. Salmon is a very thorough researcher and butterfly historian, so why he ignored the data on one of his own specimens, especially if he thought that the data on the Holme Fen 1860 female was correct, I do not know. Perhaps he thought the date on this data label was erroneous due to further drainage. Although the Great Fen was drained in 1851, in the winter the area still filled with water for a number of successive years. More than a decade later the area had to be regularly pumped till the fields contained not marshland but the weight of the golden harvest as the great James Charles Dale so aptly put it.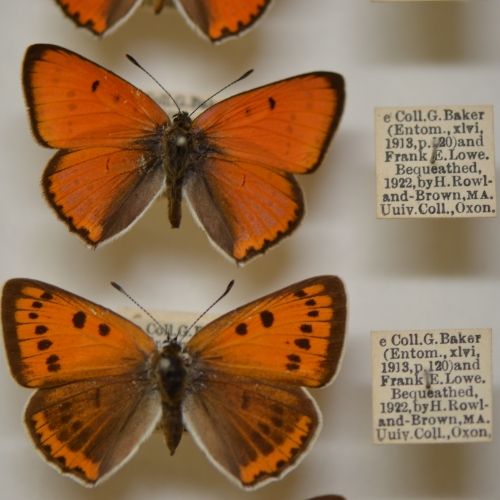 Pair of Lycaena dispar dispar presented to the Oxford Museum by Henry-Rowland Brown in 1922.
Two female Lycaena dispar dispar ex G. Baker, F.E Lowe and H. Rowland-Brown collections. Oxford University Museum of Natural History collections.
I have being reading about the current Great Fen project, and hopefully one of the top priorities, of those involved, will be putting the Large Copper butterfly back where it belongs. If the restoration project creates enough suitable habitat to sustain the subspecies batavus, the Large Copper will once more delight us by the sheer brilliance of those glorious wings in its historic homeland.
Peter.